Exquisitely designed wedding contracts
Custom designed with real Islamic inspired artwork and calligraphy, approved by scholars and printed to perfection! Our Nikkah certificates are designed to be cherished for a lifetime.
Meet the designer!
As a 22 year old full time nurse I have always had a passion for painting and drawing and spent my spare time creating islamic art pieces. In 2019, one of my close friends asked me to design her nikahnama and wedding invitations for her and from there a spark ignited inside me. I have since done years of research into the history of nikahnamas which brought me to 2022 in which Aisha's studio was born.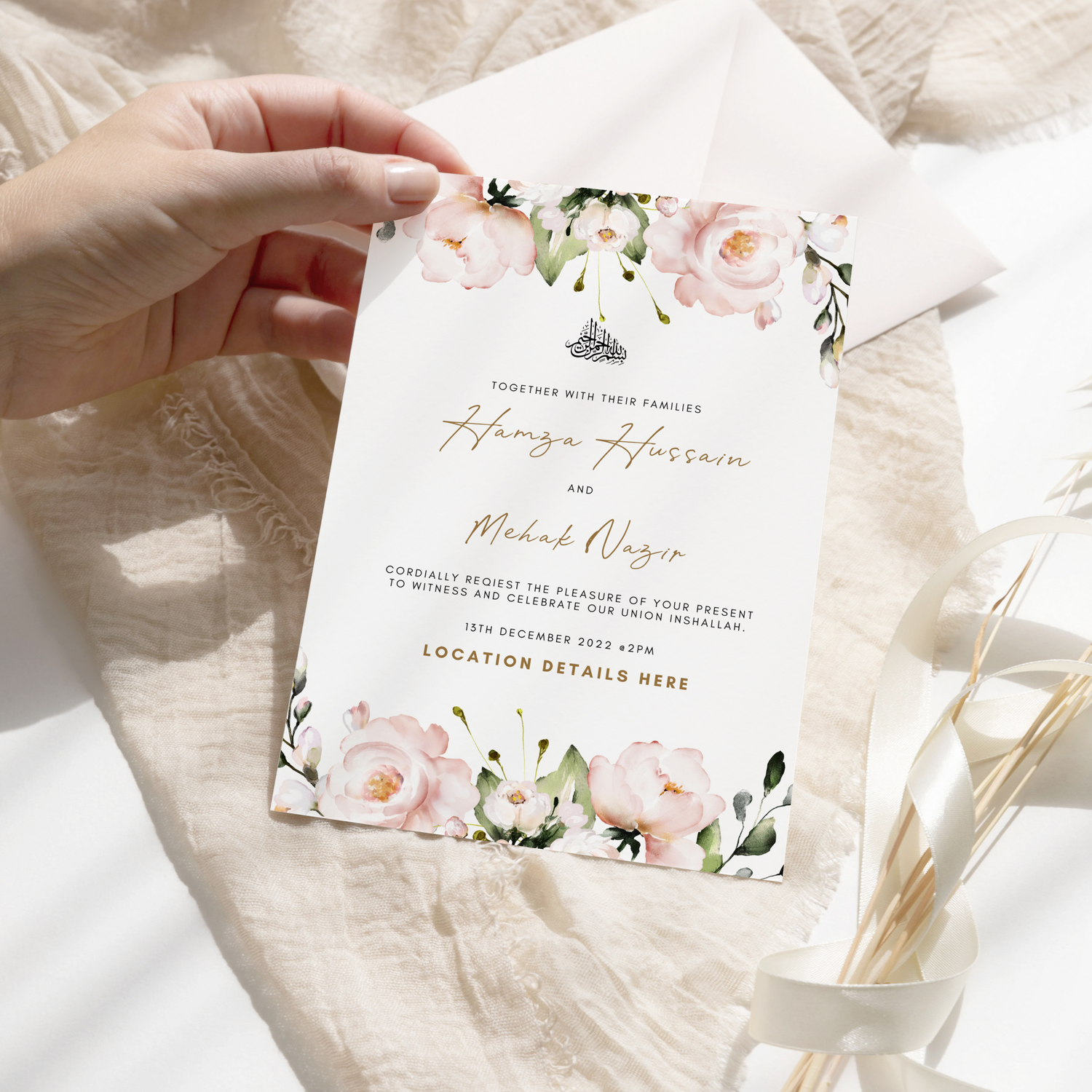 Exquisitely elegant wedding invitations
Our wedding invitations are designed to perfection with unique floral designs to enhance the experience of opening them for your guests.
View all
How it works
1. Pick your product and your design
2. Add all your text details
3. We get to work behind the scenes and deliver your product to you!
Handcrafted Calligraphy

We use specialist and highly experienced Islamic calligraphers for all our text. Want a custom quote from the Quran on your Nikahnama to make it unique to you? Our
calligraphers will get to work to make this dream a reality for you!

Customized just for you

Each nikkah certificate is customized just for you and your special nikkah signing moment!

Printed to perfection

Our nikkah certificates are printed on high quality materials to create a keepsake for a lifetime!
Want a modern, eco-friendly, cheap alternative to paper wedding invitations?
Digital wedding invitations are a perfect way to easily send out wedding invitations. Simply place an order adding all the details of your event and receive your ready to send invitation within 48-72 hours. Send via Whatsapp, Snapchat, Facebook and even Instagram! Evites are truly life changing! Trust me even the desi aunties will approve!
View all designs
Give a warm welcome to the guests of your wedding events with one of our beautifully crafted wedding signs